The "problem"
Does is? doesn't it? yes, no, maybe, maybe not...
The question of whether the 50L focus shifts seems to come up every other day (week maybe…) so I thought I would provide my perspective on the matter.
Firstly, I don't know a huge amount about lens design, but I know enough to say that focus shift is due to uncorrected spherical aberration and so by design, the lens will focus shift. Simple as that. But the real questions are "How much?" and "Does it matter in practice?". These are the two questions I'm attempting to answer in this post.
The other common quote is that Canon 'fixed' the problem with later production runs. I suspect that's a load of rubbish (because they would have had to change the lens design) but I have a recent date coded lens (purchased in 2011) so if they did make any changes, mine will have those changes.
How the test was performed
This section aims to explain a bit about how the tests were conducted, before we get to the test results themselves. Feel free to skip along if you prefer...
Cameras: I originally purchased my 50L to use on my 40D and my wife's 5D2, but having recently acquired a 5D3, I've used the 5D3 to perform all the testing. As a side note, I've noticed that the lens performs amazing well on the 5D3, AF is far snappier and I'm getting a better hit rate than on the other cameras.
Theory vs practice: so in order to test out the focus shift theory versus 'real life' practice, I've decided to perform some testing on both test charts and a real life subject.
For the "test chart" exercise: I shot at a range of distances: minimum focus distance ("MFD"), 3 feet and 6 feet. The typical "problem" range for focus shift tends to be from MFD to 6 feet so I thought this presented good coverage. All shots were at ISO 400 on a tripod, default sharpening, no noise reduction, but a small amount of contrast and clarity applied in LR4 just to increase the definition and make the tests easier to analyse. Note that I initially took shots using camera phase detect AF and also live view manual focus. The results were identical, but in case there was any variation, all shots presented below were manual focused using live view - and not touching the focus after the first shot in each series. A word on lighting as well, the shots were taken under poor lighting, just a tungsten bulb, no flash. I did this partly to show the interesting differences in the lens as the apertures increase - I feel this effect is emphasized under poor light.
For the "real life" exercise: thanks goes to my daughter for presenting me with a pleasing subject! Conveniently though, babies are also pretty small, so they are ideal for testing within the MFD to 6ft range without too much difficulty – in all of these pictures the subject distance was inside 6 feet. Also worth noting is that whilst babies don't run around, they do move limbs and heads remarkably quickly, so it's not possible to spend ages setting up a shot. All pictures were hand held, AF always single point with the focus point selected to be on one or other eye (sometimes Al Servo, sometimes One Shot), no manual focusing. I deliberately shot a range of apertures and deliberating did not try to think about focus shift – in other words, compose, select focus point, half press and shoot – generally pretty fast.
Side note: I also took a whole bunch of "real life" shots of an iron fence near my house in Brooklyn, focusing on one spike and determining the impact of increasing aperture. I decided not to use these though because 1. They are boring, 2. They are test shots, not real life, and 3. They were far more controlled (the subject couldn't move, the lighting was better etc etc) and therefore they didn't present the same kind of available light moving subject challenges.
So let's answer the questions:
How much?
So here I'm answering the question of how much the camera actually focus shifts under controlled conditions – on test charts. Higher resolution crops are available in the appendix at the end, but here are the highlights:
MFD, f1.2
MFD, f1.6
MFD, f2.0
MFD, f2.8
MFD, f4
MFD, f5.6
So, what do we see at MFD?
- At f1.2 and f1.6, focus is spot on
- By f2.0, it looks like the area in focus is shifting back a bit, and that "1" seems to be about the center of the area of focus, "0" is still in focus though
- By f2.8, it looks like the area in focus is shifting back a bit more, and that in between "1" & "2" seems to be about the center of the area of focus, but again, "0" is still in focus
- f4 is still experiencing some shift, but by f5.6 it gets kind of irrelevant
- Most importantly however, the black focus line is in focus in every shot! On to the 3 feet test...
3 ft, f1.2
3 ft, f1.6
3 ft, f2.0
3 ft, f2.8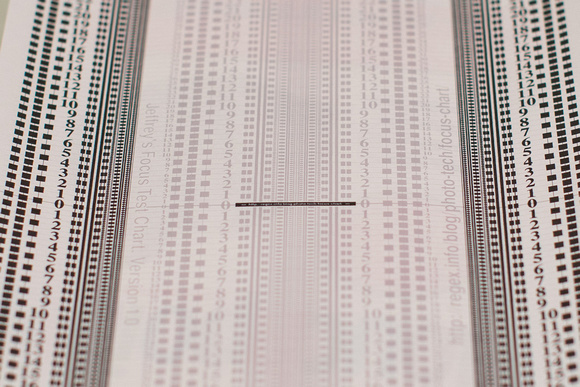 3 ft, f4
3 ft, f5.6
At 3 feet?
- I find these a bit more difficult to judge
- f1.2 and f1.6 are not at issue. By f2.0, it looks like the area in focus is shifting back a bit so that everything between "0" and "5" appears to be in focus
- By f2.8, it looks like the area in focus is shifting back a bit more, and now everything between "0" and "8" appears to be in focus
- By f4 things are improving at the front, and by f5.6 it's not an issue
- Again though, most importantly, the black focus line is in focus in every shot. On to 6 feet...
6 ft, f1.2
6 ft, f1.6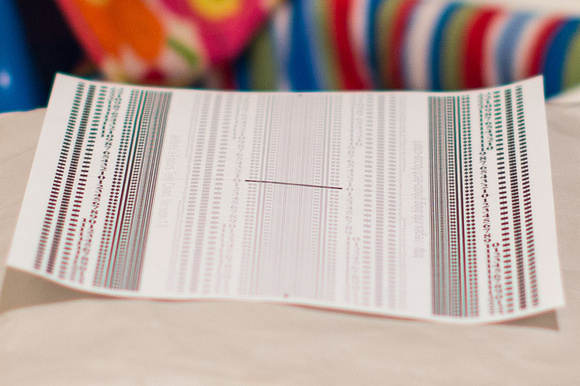 6 ft, f2.0
6 ft, f2.8
6 ft, f4
6 ft, f5.6
At 6 feet?
- Maybe the test is getting pretty poor at this stage, the images seem to be pretty awful due to my rather slap dash approach (poor light, no flash, propping the piece of paper on an envelope)!
-Nevertheless, concentrate on the black focus line and the "0"s to either side, they are all in focus, that's the most important thing.
- Bare in mind things are getting pretty far away at this stage, here's the whole image for comparison:
Does it matter in practice?
So one of the things you will have already noticed from the shots above is that, with the best will in the world, the 50L is not exactly sharp wide open. It really only gets properly sharp at f2.8 or thereabouts. This is obvious with 100% crops but is far less relevant when you consider the whole frame – however, if you want ultra sharp pictures at 100% at all apertures, do not buy the 50L, you will be disappointed!
With that said, this is the sort of real world sharpness I'm getting hand held with the 5D3 and 50L at fast apertures, see for yourself. Note that I have touched these up a little (WB, colour & exposure mainly), but I have tried not to adjust sharpening or noise at all (with the exception of the final image):
Full frame f1.2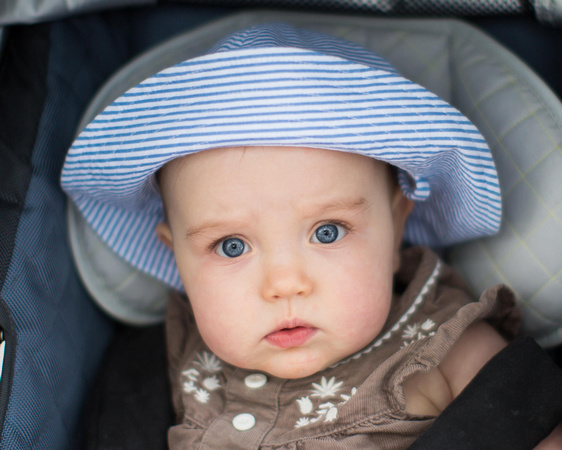 100% crop f1.2
Full frame f1.6
100% crop f1.6
Full frame f2.0
100% crop f2.0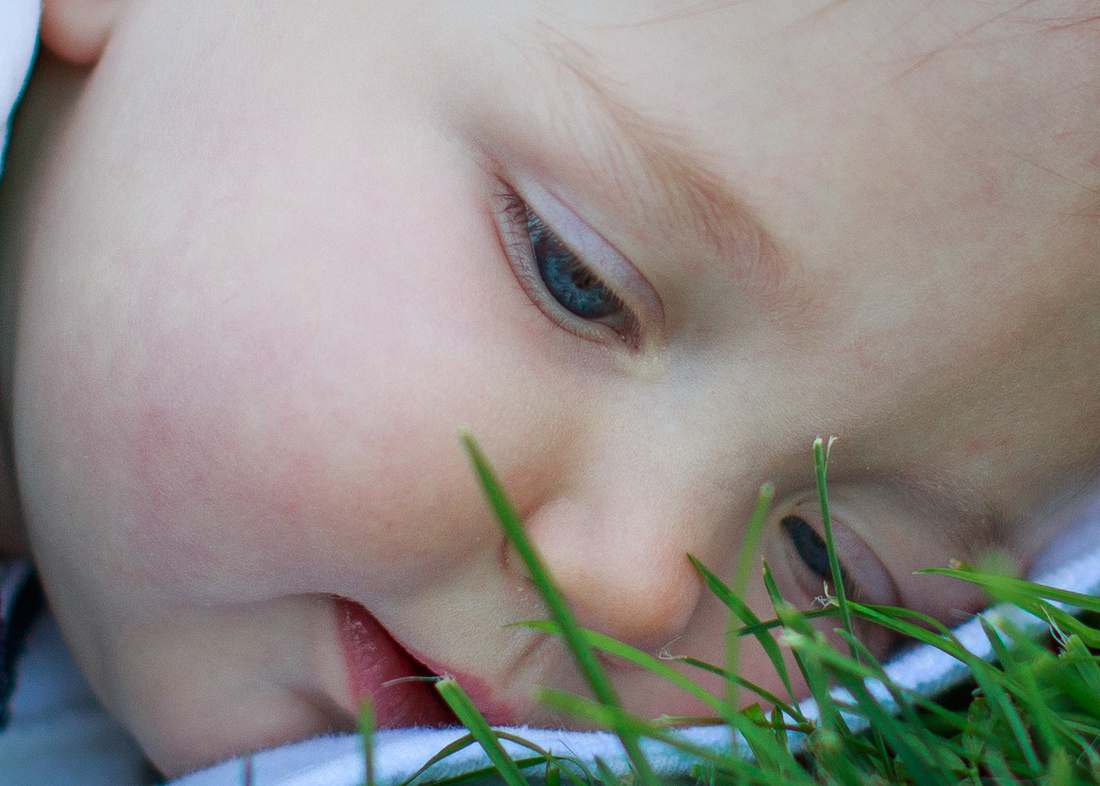 Full frame f2.8
100% crop f2.8
Full frame f3.2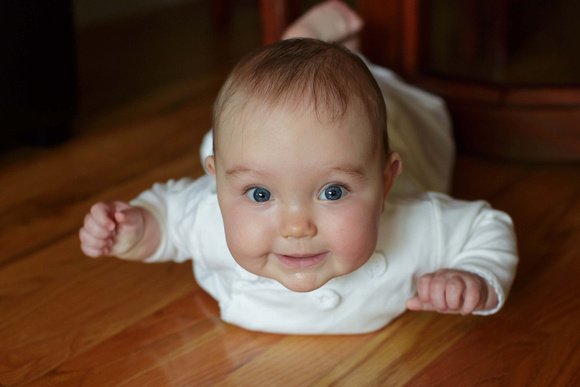 100% crop f3.2 (bit of noise reduction here, sorry about that, ISO 1600 I think...)
Conclusion
I have to say, I was expecting worse! Every single eye seems to me to be in focus, even though the depth of field in some instances is waffer thin. Again, do not concentrate on how sharp the lens is (or is not!) at 100%, concentrate on the area of focus, that's what's being tested here.
I've actually been kind of baffled with the real world shots I've been getting with the 5D3. In the two months I've had the 5D3 there appear to be comparatively few examples where the 5D3 hasn't nailed focus, and in these few "out of focus" cases, I can confidently predict that it's more likely to have been the user rather than the camera that has been messing things up (mainly due to me moving, the subject moving etc).
I think when you look at the test charts you can see why the focus is generally spot on in the real life examples. The simple fact is, whilst there is evident focus shift in the test shots, the critical focus point always remains in focus (albeit sometimes right at the front of the whole focus area).
So is it an issue? For me, it really isn't. I'm not a perfectionist (you can tell that by the quality of the test charts!) and my photography is more about capturing images that I'm really pleased with than it is about technical perfection. That said, I still love good glass, and if the focus shift problem was really an issue for me then firstly I would have been a bit unamused at shelling out significant cash for a lens that didn't operate adequately, and secondly, I would have noticed it when I originally bought the lens, and then I would have sold it!
So for those in doubt about focus shift, don't be, it's not worth the worry. I hope I've shown that in both a slap dash test environment, and in more real world examples, it's just not that much of an issue!
Caveat: I should point out that these are my personal conclusions based solely from using my own equipment - I don't unfortunately have a large number of samples to test! Therefore my conclusions may well not apply to every camera and lens combination.
Addendix
Below are the highest resolution examples I was able to upload for the test shots whilst still ensuring that the full width of the test sheet is presented. In each case (MDF, 3 ft and 6ft), there are 15 pictures, shot in order at the following apertures:
f1.2, f1.4, f1.6, f1.8, f2.0, f2.2, f2.5, f2.8, f3.2, f3.6, f4.0, f5.6, f8.0, f11, f16
MFD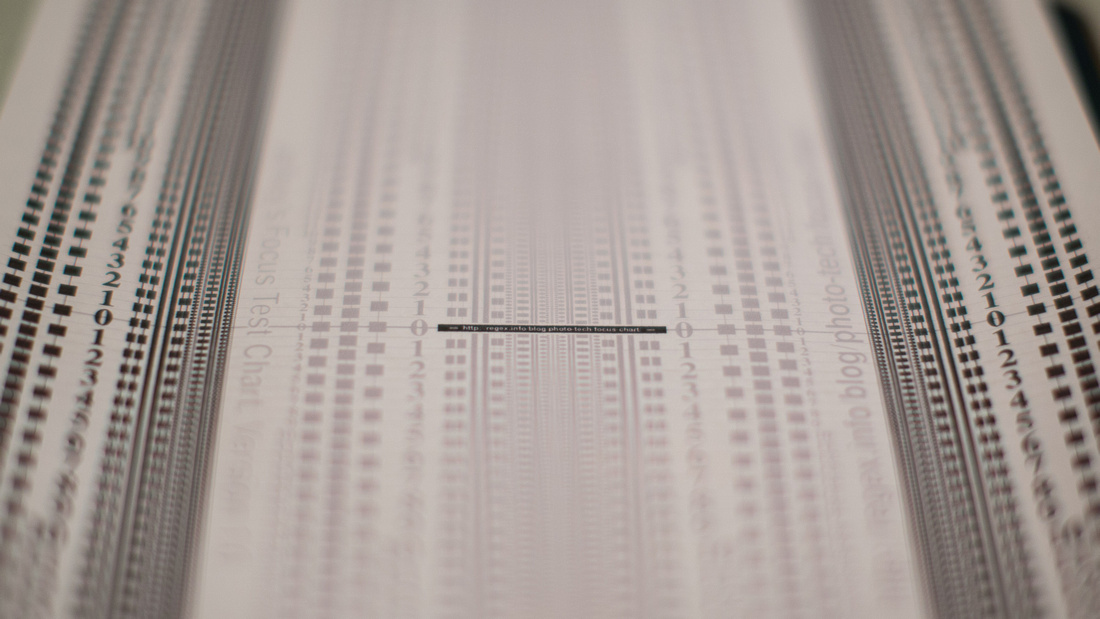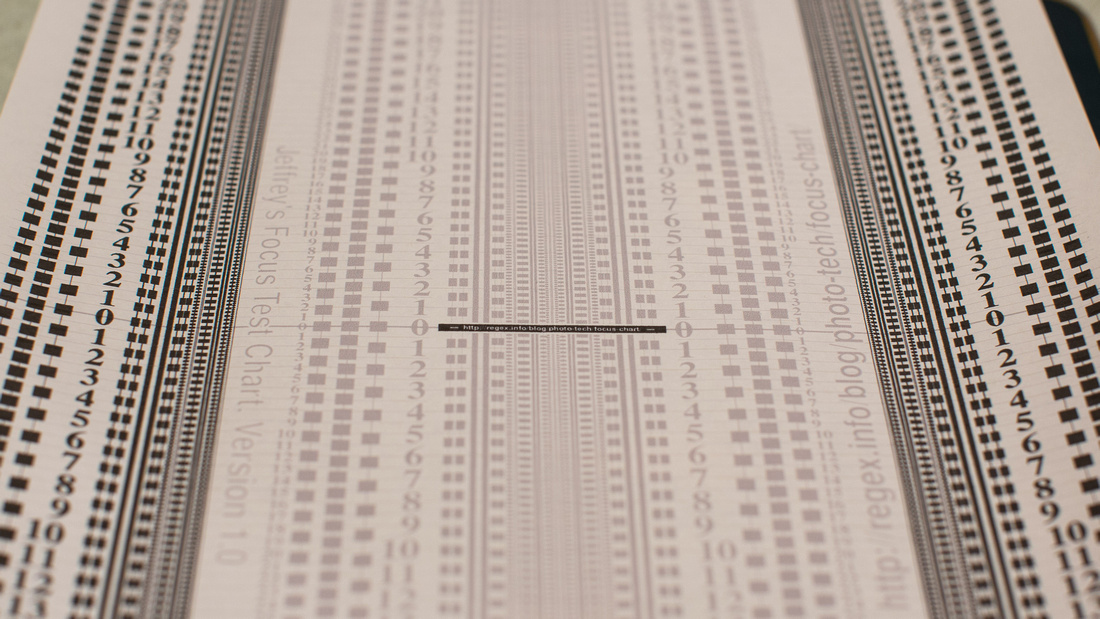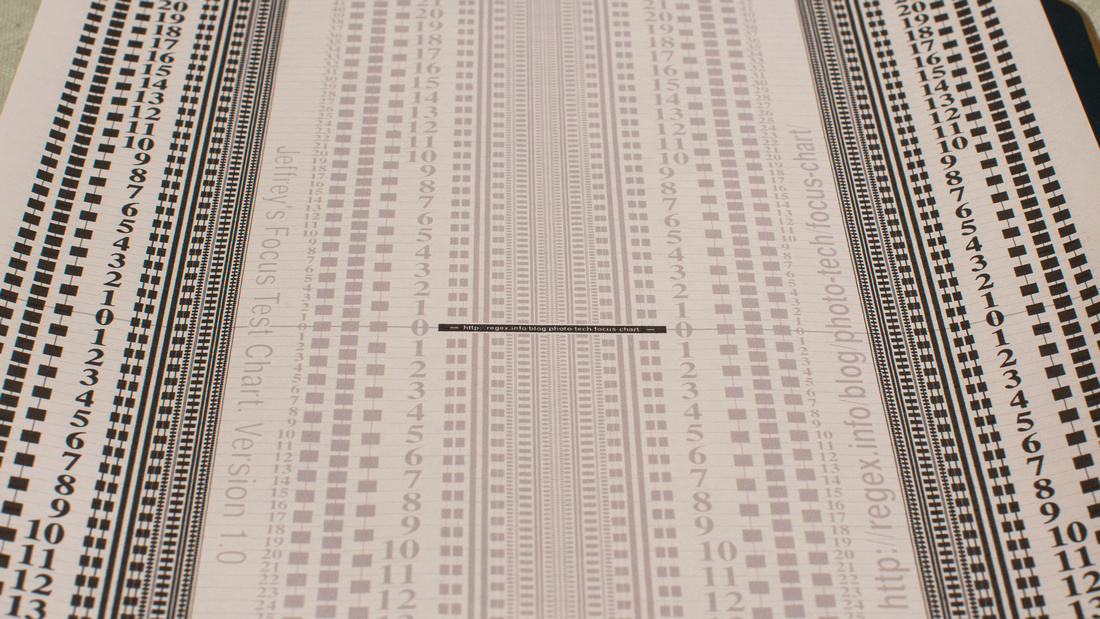 3 ft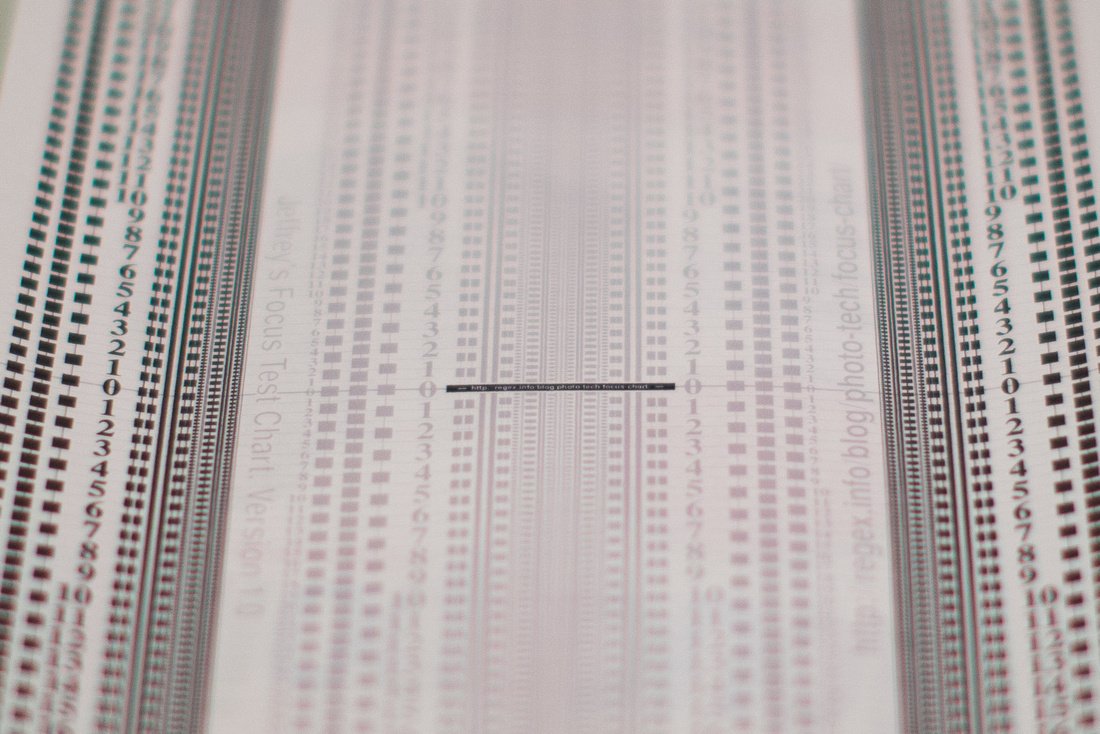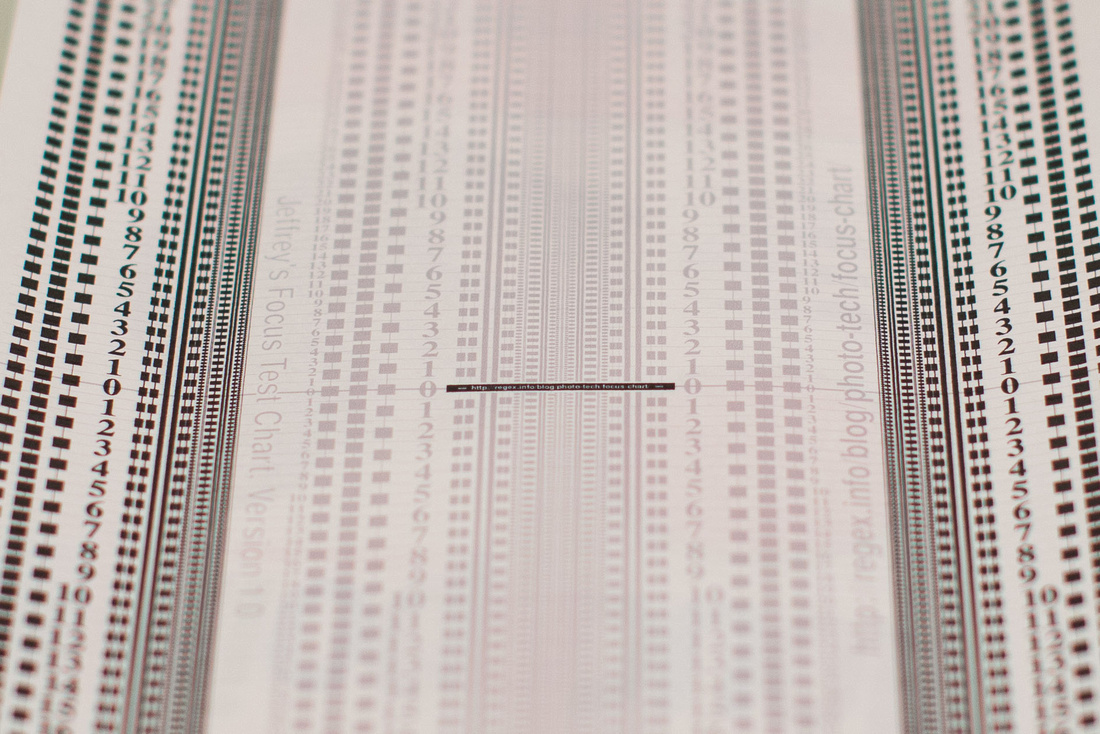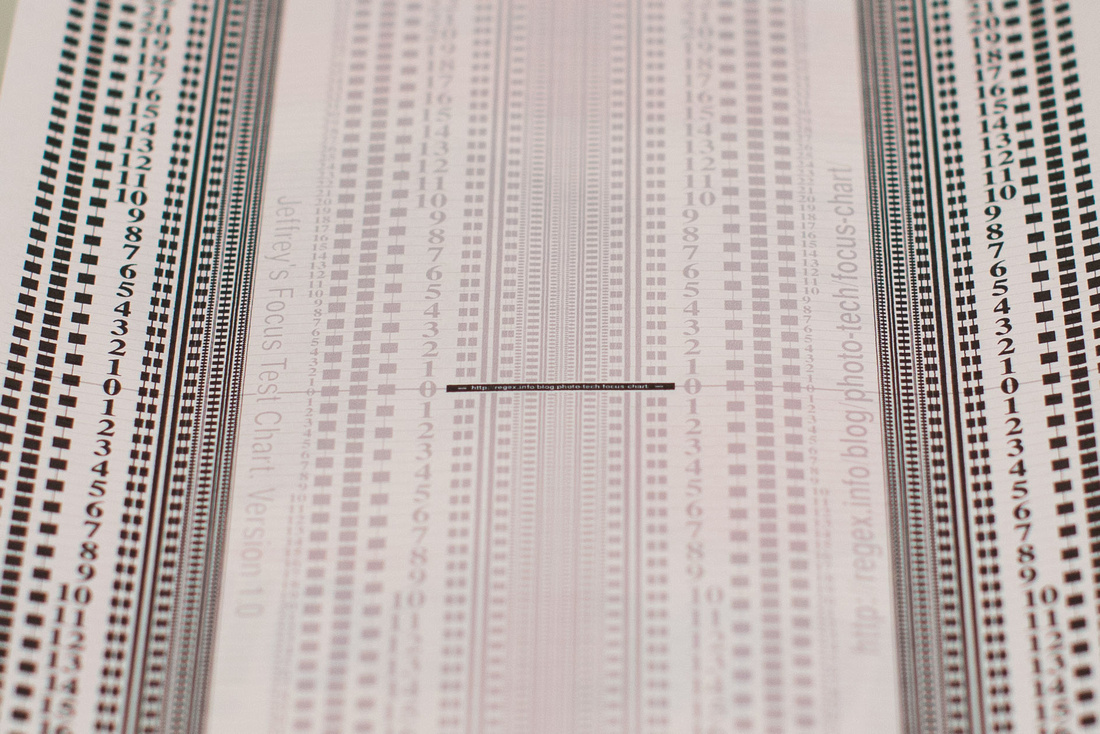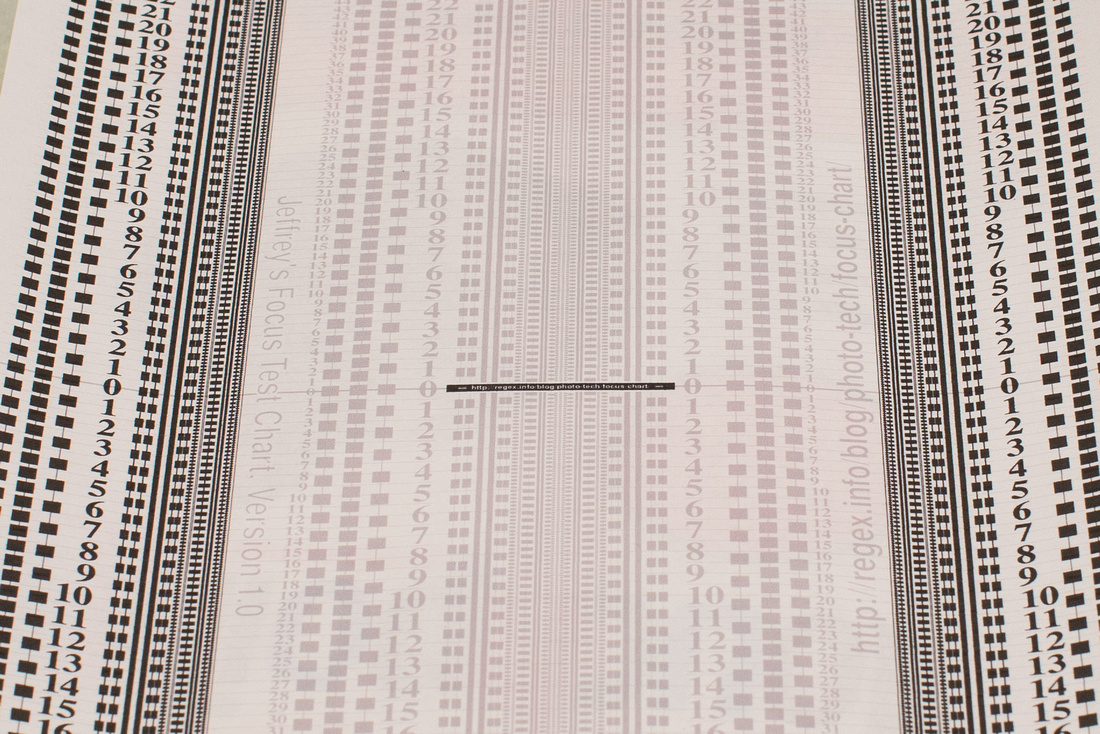 6 ft